Minimally Invasive Gynecology Surgeons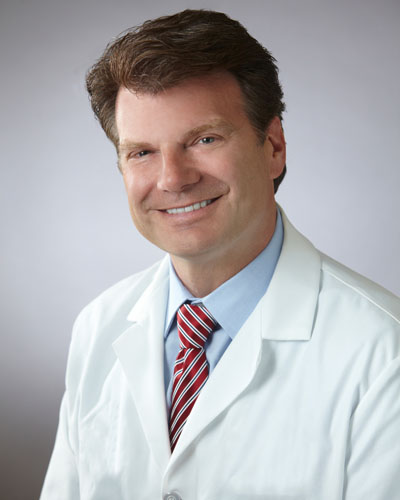 K. Warren Volker, MD, PhD, FACOG
Dr. Volker is a researcher, educator, surgeon and innovator. A pioneer in the arena of minimally invasive surgery and a widely respected specialist in women's health issues, he has lectured at notable institutions such as Brown University, UC-Davis, Orlando Regional Medical Center and UCLA, just to name a few.
Dr. Volker is the managing partner of Women's Specialty Care, serves as assistant professor at the University Nevada School of Medicine, and was previously the school's Director of Research in the Department of OB/GYN. Currently, he is the president and medical director of Volker Medical Research Foundation, chief of staff at Centennial Hills Hospital, past chairman of OB/GYN at Summerlin Medical Center, and the Director of The Minimally-Invasive Surgery Program at Southern Hills Medical Center. His research papers have been published in numerous scholarly journals.
As a guest lecturer and preceptor at institutions and industry centers around the world, Dr. Volker provides insight in advanced pelvic, laparoscopic and minimally invasive surgery. Current preceptorships include Ethicon Endo Surgery University, Ethicon Women's Health and Urology, Olympus Instruments, Wyeth Pharmaceuticals and American Medical Systems, Inc.
Dr. Volker holds both an M.D. and Ph.D. from the University of North Dakota School of Medicine & Health Sciences. He completed his residency at the University of Nevada School of Medicine. Dr. Volker is a diplomat of the American College of Obstetricians and Gynecologists and is a member of American Association of Gynecological Laparoscopists, Society for Laparoscopic Surgeons and American Medical Association. He is licensed in Nevada, California, Arizona and Florida.
Medical Education
BA, BSN, MSN
In the News
Dr. Volker teaches hundreds minimally invasive surgery
More information about Dr. Volker
Locations
Las Vegas Minimally Invasive and Women's Pelvic Health Center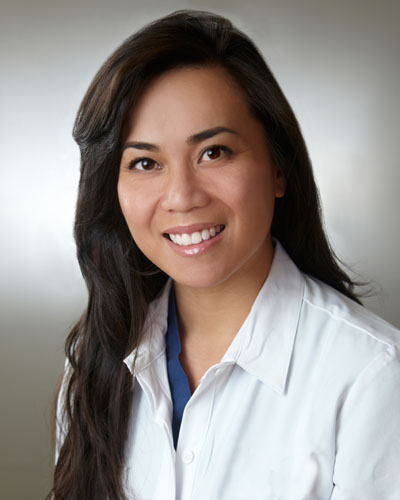 Jasmine Pedroso, MD, MPH
Assistant Fellowship Program Director & Graduated Fellow & Provider
Jasmine Pedroso grew up in sunny San Diego, California. She received her bachelor's degree from the University of California, Berkeley with a double major in Integrative Biology and Socio-Cultural Anthropology. After working for multiple nonprofit organizations in the San Francisco Bay Area, she attended the Harvard School of Public Health where she served as Harvard University Presidential Scholar and received her master's degree in Public Health with a focus on Society, Human Development and Health, and a concentration in Women, Gender and Health.
In particular, Dr. Pedroso has a special interest in minimally invasive, cosmetic, and fertility-preserving approaches to chronic pelvic pain, endometriosis, female sexual dysfunction, incontinence and pelvic organ prolapse.
As an OB/GYN and as a minimally invasive surgeon, Dr. Pedroso will undoubtedly continue to teach and serve, as best she can, the millions of women who still needlessly suffer around the world.
Medical Education
Medical Degree from David Geffen School of Medicine UCLA
Residency/Fellowship
Residency – Harbor-UCLA Medical Center
Fellowship – Las Vegas Minimally Invasive Surgery AAGL-SRM
In the Media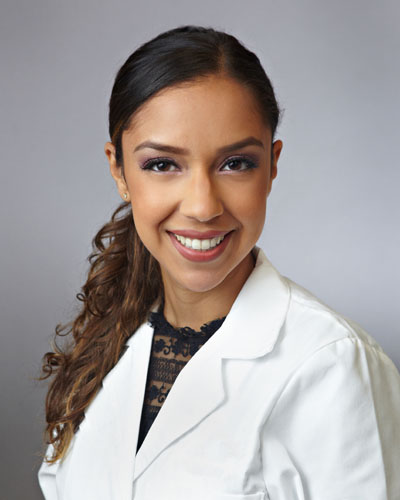 Yarini Quezada, MD
Fellowship Faculty & Provider, Urogynecologist
Dr. Yarini Quezada provides patients with the kind of bedside manner they truly love, along with the real-world expertise they need. She has trained at some of the most acclaimed schools across the country, including The Christ Hospital in Cincinnati, the Albert Einstein Medical Center in Philadelphia, and St. George's University. She has also completed a three-year fellowship in Female Pelvic Medicine and Reconstructive Surgery (FPMRS), and finished her FPMRS boards, leading her to be double board certified. She is bilingual in both English and Spanish.
To provide the best care for her patients, she specializes in treating a wide range of female pelvic ailments, such as pelvic organ prolapse, urinary and fecal incontinence, voiding difficulties, interstitial cystitis, pelvic pain, mesh erosions and fistula repairs. She is also highly regarded in vaginal reconstruction surgery, as well as non-surgical treatments for these conditions.
: A lifelong learner, Dr. Quezada continues to seek out the most effective and least invasive treatment options and has done extensive training with state-of-the-art technology, including InterStim and the MonaLisa Touch laser. Outside of the clinic, she has worked to advance medical science even further. Her research in female pelvic medicine and reconstructive surgery has been published nationally and presented at multiple medical conferences.
Medical Education
Medical Degree from St. George's University School of Medicine
Residency/Fellowship
Residency – New York Methodist Hospital and Albert Einstein Medical Center
Fellowship – The Christ Hospital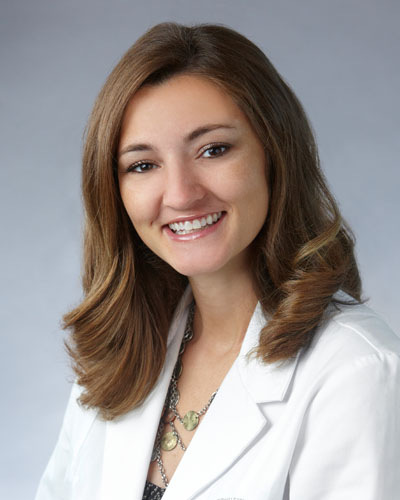 Erica Stockwell, DO, MBA
Graduated Fellow & Provider
When it comes to her patients, Dr. Erica Stockwell always goes above and beyond. Even at a young age, she was passionate about patient care and dedicated herself to becoming the most effective healthcare provider possible. To do this, she double majored in biomedical engineering and physiology and double minored in chemistry and psychology. After receiving her bachelor's degree, she went on to earn her osteopathic medical degree from Midwestern University, where she was awarded the prestigious departmental award in obstetrics and gynecology. Her residency training was then completed at the University of Minnesota, where she served as administrative chief and even developed a special robotic surgical training program for the residents.
Her remarkable talent and passion for patient care continued to earn her recognition, and she received the American Urogynecologic Society's (AUGS) Excellence in Female Pelvic Medicine and Reconstructive Surgery award in 2014, and also the Society of Laparoendoscopic Surgeons' award (SLS) for Outstanding Laparoendoscopic Resident in 2015.
Today, Dr. Stockwell continues to go above and beyond. In June 2017, she completed the two-year AAGL-approved fellowship in Minimally Invasive Surgery with the Las Vegas Institute of Minimally Invasive Surgery and Women's Pelvic Health Center. She also completed her Master of Business Administration (MBA) through the University of Nevada – Las Vegas in 2017. With her background in biomedical engineering, she plans to create even safer and more effective innovations in surgical technology. She has also taken an interest in international health and has traveled abroad on medical missions to both Tanzania and Peru. She plans on continuing to travel around the world, helping women in need.
When she's not working with her patients, designing new surgical tools, or planning her next medical mission, Dr. Stockwell enjoys the simple things in life, like spending time with her family, dancing, skiing, and hiking.
Medical Education
Doctor of Osteopathic Medicine from Midwestern University – Chicago College of Osteopathic Medicine
Residency/Fellowship
Residency – University of Minnesota
Fellowship – Las Vegas Minimally Invasive Surgery AAGL-SRM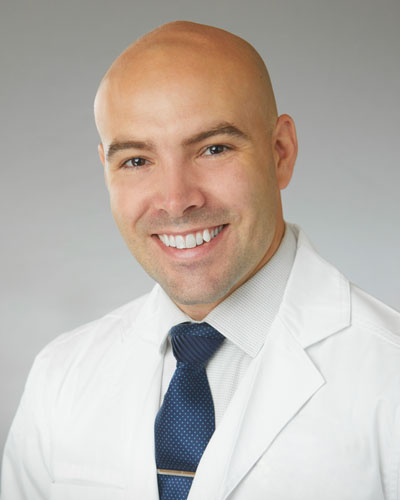 Nathaniel Klein, MD
Junior Fellow and Provider
Dr. Klein grew up in a small country town in Michigan before attending Michigan State University, where he double majored in human physiology and nutrition. He then continued his education at Rosalind Franklin University of Medicine and Science, where he received his Master of Science in Biomedical Sciences and a research certificate for clinical sciences.
Dr. Klein then went on to obtain his medical degree from the Chicago Medical School, completing his OB/GYN residency at St. Joseph Hospital in Chicago. While in residency, he served as the chief resident as well as the administrative chief.
During his residency, Dr. Klein helped develop a new GYN training curriculum with an emphasis on simulation training regarding robotic and laparoscopic surgical techniques while integrating the latest minimally invasive surgery research. He developed a passion for treating patients with chronic pelvic pain, especially related to endometriosis, as he found this patient population to be dramatically underserved and often times inadequately managed.
He strives to make his patients feel comfortable and well-cared for and believes that the best way to do that is to listen to patients' concerns or worries so they can work together to find a personalized treatment plan. In addition to his fellowship, Dr. Klein is pursuing a Master of Business Administration at the University of Nevada, Las Vegas Lee Business School.
When he is not in clinic, Dr. Klein enjoys doing all things outdoors and eating good food. He is licensed in Nevada, California, and Washington.
Medical Education
Medical Degree from the Chicago Medical School
Residency
St. Joseph Hospital, Chicago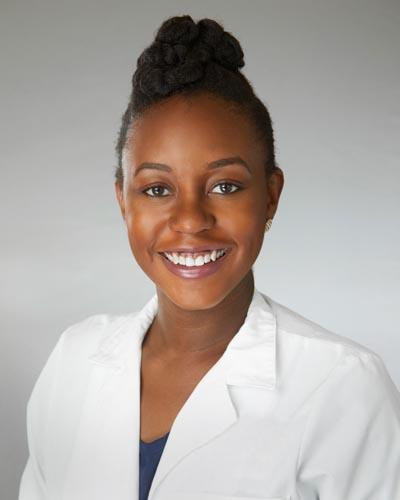 Alyssa Small Layne, MD
Junior Fellow and Provider
Dr. Small Layne was born and raised in Canada with deep Caribbean roots, which sparked her interest in diversity and healthcare disparities. She graduated with honors from the University of Toronto with a Bachelor of Science degree in Neuroscience. She had varied interests that she satisfied with minors in both Caribbean studies and psychology. Her interests in science and community well-being led her to pursue a career in medicine.
She graduated from medical school at Meharry Medical College and then trained to be a women's health specialist with a residency in obstetrics & gynecology at the University of Illinois at Chicago. Her medical career has focused on urban and underserved populations with projects in Canada, USA, Barbados, and Honduras.
While studying, Dr. Small Layne found time to mentor students from disadvantaged communities in science and math. In her spare time, she is an avid hobbyist who can be found exploring farmers' markets for her latest culinary adventures, hiking, snowboarding and even making her own hair care products.
Medical Education
Medical Degree from Meharry Medical College
Residency
The University of Illinois at Chicago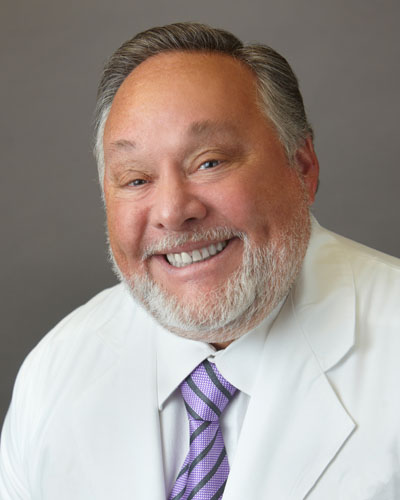 R. Marcus Vennart, MD
As a person who takes cooking classes, boats in the Bahamas and spends his free time water skiing, Dr. Vennart's interests are as wide as his medical acumen is deep. Dr. Vennart is happily married, and has a golden retriever, Rhett, a therapy dog.
Medical Education
Medical Degree from Tulane University School of Medicine
Residency
Charity Hospital/Tulane University
Board Certification
American Board of Obstetrics and Gynecology
Delivers at
MountainView Hospital
Centennial Hills Hospital
Summerlin Hospital
Accomplishments
LVMIS Fellowship Faculty Staff
2014 The Doctors, TV Appearance
2012 Vegas Seven Magazine's Best Doctors in the Las Vegas Valley
Affiliation with American Medical Association
Locations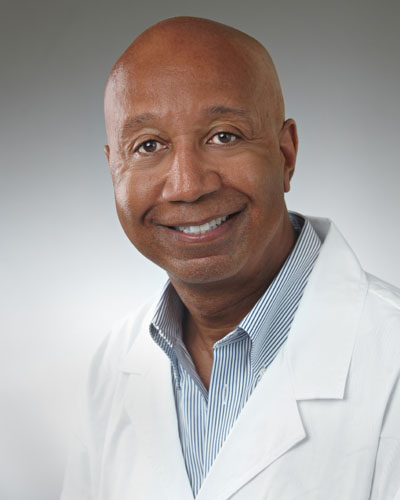 Lamarr Tyler, DO
Dr. Tyler was born and raised in Chicago, Illinois. He began his residency in the department of Family Practice, and after his first year, switched to Obstetrics & Gynecology after discovering his passion for women's health. He believes that patients should be active participants and engaged in their healthcare. His philosophy is that the doctor-patient relationship is one of a shared partnership.
He seeks to provide patients with up-to-date, evidence-based healthcare options, enabling them to make the most informed choices regarding their healthcare needs. He believes every patient is unique and their care should be individualized. He optimizes the most current and minimally invasive technologies to optimize female health. He embraces health and wellness and encourages positive lifestyle changes. In his free time, he enjoys living an active lifestyle and lists cycling, skiing, and yoga as a big part of his fitness regimen.
Medical Education
Chicago College of Osteopathic Medicine
Residency
Cook County Hospital
Affiliations
Fellow, American College of Obstetrics/Gynecology
American Medical Association
North American Menopause Society
American Association of Gynecologic Laparoscopists
National Medical Association
American Society for Colposcopy and Cervical Pathology